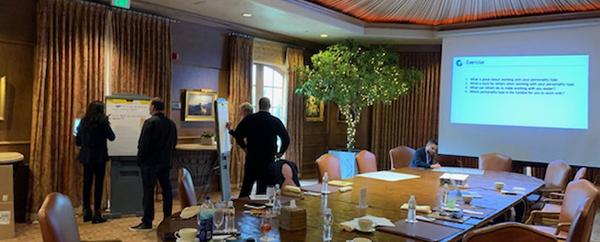 Liz spent the past month criss-crossing the country facilitating company and team retreats.
To help our clients prepare for them and get the full value out of their meetings, we ran pre-retreat surveys where we asked important questions about the company, leadership and the team. We also asked team members what they would like to cover and accomplish at the retreat. This helped us focus our attention on key areas.
During the meetings, Liz helped teams examine their strengths, weaknesses, opportunities and threats (SWOTs), prioritize areas to work on, create their vision plan for the year to come and shift everyone's mindset from doing to thinking in order to keep pace with today's rapidly evolving world.
Many thanks to these incredible teams – Gregg Lynn's team, Iantorno & Associates, Mahler Sotheby's International Realty, Becky Frey's teamand Green Couch – for inviting us into your important work as you kick off the new year.
Planning a retreat? Learn more about how we can help you achieve your goals for your meeting.