Our assessments will help you gain key insights into your team members' mindsets in order to identify both the opportunities and obstacles facing the team. This will help us build a roadmap to achieve your goals for the team and the larger organization.
Custom-built Team Assessments
Custom-built Team Assessments are able to target specific areas (topics, issues, people, etc.) the team would like to review, as well as more universal measurements around teamwork and effectiveness. We assess teams on: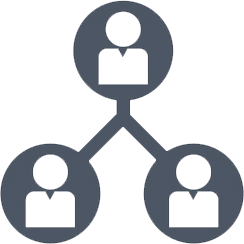 Aligned visons and goals
Communication and meeting effectiveness
Feedback
Decision making abilities
Delegating
Conflict management
Overall productivity
Morale and respect
Openness and responsiveness
Accountability
Trust
Choose this to unearth problems that are unique to your team with customized questions.
5 Behaviors of a Cohesive Team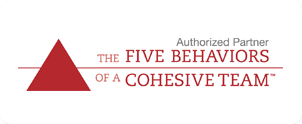 5 Behaviors of a Cohesive Team is built on Patrick Lencioni's award winning book, 5 Dysfunctions of Team, and measures the team in 5 critical behaviors: having trust, engaging in productive conflict, being committed, being accountable, and driving results.
The assessment helps teams understand how they score on these key components. Individual team members will also understand how their own personality style and the styles of their team members contribute to the team's overall success. With these insights, the team will gain insight into how they can:
Make better, faster decisions
Tap into the skills and opinions of all members
Avoid wasting time and energy on politics, confusion, and destructive conflict
Avoid wasting time talking about the wrong issues and revisiting the same topics over and over again because of a lack of buy-in
Be more fun to be on
Choose this to get an in-depth view of how the team works together and where to improve.

Patrick Lencioni on Teamwork
DiSC Culture Report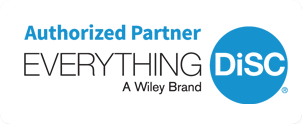 DiSC Culture Report reveals which personality types are in the majority and are therefore shaping the team culture, versus which are in the minority. From this report, we can see what kind of behavior the culture rewards and criticizes, as well as the culture's advantages and drawbacks.
Choose this to better understand the team's culture in order to build on its strengths and mitigate its weaknesses. It's also a hiring tool to round out the strengths of the team by understanding behavior types.
Clifton StrengthsFinders for Teams
We have developed a special program for teams utilizing the Clifton StrengthFinders assessment. In a half or full-day seminar, we will provide an overview of the strengths based approach and then explain how to:
Take ownership of individual strengths
Understand the strengths spectrum and how strengths can work for and against us
Analyze team strengths grid and learn about the 4 domains of leadership
Build strategic partnerships
Testimonials
I've been exposed to many personality assessments geared toward teams and management / leadership but never really saw the value of the generalizations. When you're a young manager I think you want to treat everyone like snowflakes. After working through the DISC assessment and having a few of the managers that work for me take and share with their teams, it became a much more scalable management approach than the 'snowflake' method. DISC created a common language around employee needs allowing us to have more productive conversations on how we can support and motivate one another. I've found the language useful to help grow young managers, foster peer support, facilitate 360 reviews and generally drive a more transparent, supportive culture. I will say DISC (like other personality assessments) is only part of the puzzle – it's essential to have a guide to help foster insight and find ways to apply its learnings.

Ed Urgola, Global Head of Product